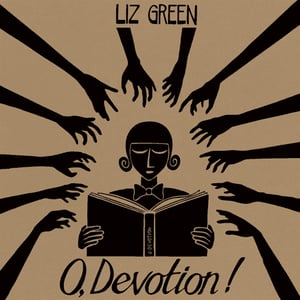 £

10.00
Liz's debut album, O, Devotion! was released on Play It Again Sam in November 2011.
Critics seemed to agree that the long wait had been worth it, with plaudits including these:
"A sensational debut" Sunday Times 'Album of the Week'
"4/5" Q
"4/5" Uncut
""To call Liz Green a one-off talent is something of a drastic under-statement""Esquire
"Eccentric and rather magical" 4/5 The Guardian live review
""O, Devotion! finally fulfils expectations"" 4/5 Daily Telegraph
""O, Devotion! brims with depth, detail and fleet drama"" The Independent
""Wonderful" 'Single of the Week' Guardian Guide"

""...a surfeit of simple yet beautifully crafted songs"" 8/10 Drowned in Sound
Here you can purchase the album direct from Liz on CD, vinyl, or in very limited edition handmade books (designed and made by Liz herself, these are also signed).